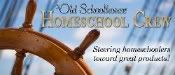 Well, today we got our first glimpse of vendors soon to come.
So be on the lookout in the next few weeks for my list of upcoming reviews to start filling out, and soon after that, for the reviews to start up again.
I know, it is exciting, huh? lol
OK, well, maybe more for me, but I know you will be looking forward to more reviews this year as well.
Stay tuned!