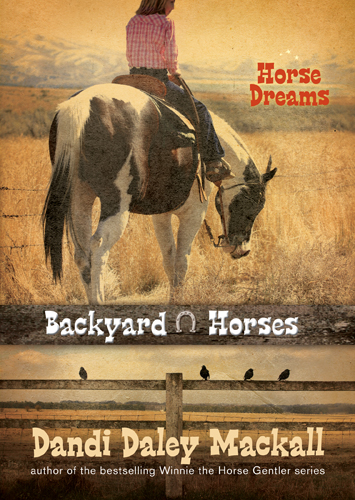 Last week we received a book in the mail to review called
Backyard Horses
.
I rarely request books for my kids that are fiction because most of the time I find them inappropriate for our family.
I went ahead and requested this book because my daughter loves horses, and if it turned out to be a good book, we would have another great series to read!
I decided to read it myself first, so I took off to the tub with the book. That's where I do most of my reading. HA
It was actually a very good book.
I enjoyed it, and I found nothing that was really "bad" in my opinion.
I am pretty strict with what our kids read, but I am happy with this book.
Now that I have told you that I liked this book, I probably should tell you what the book is about, huh? :)
Ellie James is a 4th grade girl with a lot of imagination. She is always daydreaming of owning a black stallion show horse.
Some of her schoolmates have beautiful show horses, and they get to ride in horse shows.
Ellie
so
much wants to do the same as her friends.
One day while in class, Ellie sees an ugly, dirty, skinny paint horse outside the classroom window.
Ellie tells her teacher that she saw a horse outside, but her teacher doesn't believe her.
After she finds out that there was indeed a lost horse around town, and that her mother was the one who lost it, everyone finally believes her.
Ellie's family sets out to find the horse, and somewhere along the way Ellie realizes that this ugly, dirty, hungry horse is just the horse that she wants. She realizes that she doesn't need a black stallion show horse; that God had finally sent her the horse that she had been praying for.
I loved this book. It was interesting to me and my daughter.
Younger children and older children will both like this book.
It is a fast read for an older child. My daughter and I both finished it in one sitting.
My daughter liked that the book was about horses, and that it had a sign language chart in the back.
Ellie has a younger brother who is deaf, so the family had to learn sign language. Sign language is incorporated throughout the book.
My daughter has been practicing the sign language chart in the back of the book, and now has it all down.
In addition to the sign language chart, there is also a glossary of "Horse Talk".
It is a great way to include some vocabulary words into your lessons.
All in all I am very pleased with this book, and I will be getting the rest of the series for my kiddos.
If you are interested in purchasing this book, you can find it
here
for only $5.99.
Happy reading!
*I received a copy of Horse Dreams, free, From Tyndale in exchange for an honest review. No other compensation has been given to me.*