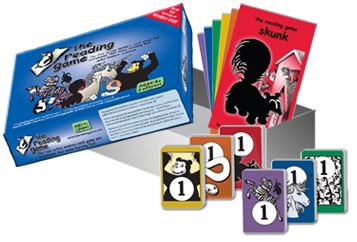 My son and I have been playing a new game from the author of WORDLY WISE, Kenneth Hodkinson, called The Reading Game.
The Reading Game
is very reminiscent of the Memory Game. It is played in the same way except that in this game your child is matching words.
The game comes with six readers, and six sets of cards, with six levels per set.
You start with set one, level 1 and you place all the cards face down. You and your child take turns trying to find a match. If you find a match you take the cards and say the word out loud several times.
Each set has five new words. You continue to play the same level until your child can read all of the words easily.
Once your child has finished set one, your child will know 30 new words and will be able to read the first book. (Skunk)
Play is essentially the same for sets one through six. Students are basically learning to read these words by sight. This is where I am hesitant about the game. My son is
just
learning to read, and I don't want him to learn
all
of these new words by sight, especially the ones that can easily be sounded out. I don't want to confuse him.
Set 1 has really easy words: can, cat, is, me, not. But the words quickly increase in complexity.
Set 2 contains words such as: mouse, tree, forget, meal, agree, mistake, and treat.
Set 3: awake, know, bear, honey, steal, and thing.
Set 4: fish, penguins, right, below, ice, and seven.
Set 5: behind, castle, because, people, again, and unicorn.
Set 6: alphabet, wombat, yak, zebra, dolphin, should, and once.
As you can see, there seems to be no real pattern. You are not learning with phonics. The author says that phonics can be incorporated after your child learns all of the words.
I like this game, but we are still in level one, because I want my son to sound the words out, not just remember them. Of course there are some words that can't be sounded out, so I have him remember those by sight.
I am doing what all homeschoolers do when something doesn't quite work for them. I am tailoring it to my child, and how he learns.
The point of this memory game is so that your children can learn to read a book easily and fast.
I think whether or not you would like this game is really a matter of how you are teaching your child to read. If you are focused on phonics
only
, then you may not want to use this game in the beginning of learning to read.
If you are teaching by sight, or even a mix of phonics and sight, this game may be great for you.
If you are teaching by phonics only, like I am right now, then you may want to wait until after your child has a better undertanding of how to read. But you can still use this game. It is a good concept.
Your child is only learning a few words at a time, so it is not overwhelming. We are using this game alongside our phonics program. We are sounding out the words that we can, and if we come to a place that it becomes too difficult, we will just put it aside and come back to it later.
I asked my 6 year old son what he thought about The Reading Game, and this was his response: "Yuck".
I asked him why he said yuck, and he said "Because it is boring, and it is about reading". I asked him if there was anything he liked about it, and he said no. He did say that if it were about animals or anything other than reading he would like the game.
See, he does not like learning to read. He is getting better at reading, and I see his confidence growing as he becomes more proficient at reading, but he is still in the
avoid reading at all cost
mode.
He just doesn't think reading is fun yet.
I honestly think that as he learns to read a little more that he will like this game. I really feel that his feelings about the game aren't really about the game, but reading itself.
So I still recommend this game as a great supplement to your reading program. We will continue to use it, but I may put it up for a while until he has mastered the basics of reading.
I really encourage you to
read my fellow Crew mates reviews on The Reading Game
, because there are so many different types of children, and there will be many different points of view.
So be sure to check them out and see what others thought about this game.
This game can be used with children of any age that is ready to learn to read. You know your child best.
You can purchase The reading Game
here
for $24.95. You can get a $15 discount on orders of 8 or more.
Have fun reading with your child!
*I have received The Reading Game, free, as a member of the TOS Homeschool Review Crew, in return for my honest opinion.
No other compensation has been given to me.*