Chuck Swindoll's Paws & Tales: Biblical Wisdom for Kids
I was given an opportunity to review a DVD called
Paws & Tales : God Cares for You
.
I am very picky about what my children watch. I do not let them watch shows that most other kids do.
I don't allow even most Disney movies. They are just full of crude comments, or they have love stories, or violence that I just don't want my kids to see.
So I was very pleased when I received this in the mail. It looked like it would be OK for the kids, so we sat down, and watched it together. It was great!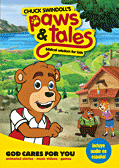 Episode 1: A Good Foundation
In this episode the kids want to form a club, but they can't decide what type of club would be best. They all have their own ideas.
They all want something different, and no one wants to compromise, so they end up splitting into two different groups to see who can build the best clubhouse.
One group tries to build a tree house in an old dead tree, and the other group tries to build a clubhouse on water.
The children who wanted to build in the tree didn't realize that the tree was dead, and would not hold the tree house, and the other team didn't take time to build a solid enough bridge over the water.
In their efforts to beat each other, they didn't take the time to build their clubhouses on a solid foundation. They just wanted to beat the other team.
In the end, they realize that they need to compromise, and work together. They realize how important the foundation is to the whole clubhouse.
After the episode is over, there is a cute song about how Jesus is the foundation, and the rock that we need to build our life on.
Episode 2: The Good Shepard
In this episode, two wolves jump out of the woods to try and attack a herd of sheep. The Shepard saves the sheep, but then something happens to him, and he needs some help in the pastures.
So C.J and Ned are going to be Jr. Shepard's for a day.
They think it will be easy, but they find out that it is not.
It is a lot of hard work, and you really have to take good care of the sheep. You have to keep watch over them at all times, or something could happen to them.
The theme of this episode is that sheep need love, and tender care, just as we do. The Shepard is a comparison of how the Lord takes care of us.
I really liked this movie. I had never heard of it before, but I am glad that I found it.
My son just came in, and asked me if he could watch this movie again! That says a lot right there.
My 6 year old son says "I like it. I really like the one with the sheep. I like when the bear and the beaver trap the wolf. I loved the little baby sheep. It was so cute."
He said he would want to watch more of these movies. His favorite characters are C.J. and Ned.
My 13 year old daughter enjoyed it as well. She said, "It is easier for young kids to stay interested in it because it is fun and entertaining." Her favorite character is Staci.
I love the catchy songs, and love that they are Godly songs.
I thought it was very cute, and loved that it had great morals to the stories.
I do recommend this movie, and I
think
there are even episodes on T.V. now. I believe I saw one the other day. It could have been a movie though, I am not sure.
For more information check out the
Tyndale website
.
Guess what?
I was given one certificate to give away on my blog, for a free DVD!
So one lucky winner will receive this DVD free of charge.
All you have to do is leave me a comment about your favorite movies for your kiddos, and you will be entered to win.
You may have one extra entry for following my blog, or for letting me know that you already follow.
This giveaway will be open until Friday, Feb. 25th, 2011, at noon CST.
Good luck!
Official Rules for this giveaway:
1.
Eligibility.
This giveaway is open to all readers. This will be a certificate that I will mail to you, and you can redeem it yourself. Participating Bloggers for this same promotion are not eligible.
2.
How to Enter
. Entry is made by leaving a comment on the giveaway post. A limit of one entry is allowed per e-mail address. You may only enter once, please do not use multiple emails to enter.
You may, however, obtain additional entries on a particular giveaway through other channels when applicable.
3.
Disclaimer.
I will not be responsible for any lost or damaged items, or any lost or late entries, any technical issues, or anything beyond my control. Winners pay taxes where applicable.
If no store is available, you may order direct from Tyndale. Certificates need to be redeemed by June 1st, 2011.
Good Luck, and thanks for stopping by!
*Comment number 5 is the winner!*